WattValue is a start-up run by women and men who are passionate about renewable energies (starting with renewable electricity) as well as energy service and who like to take on challenges. Today's energy choices will be decisive for tomorrow. For our future, there is still time to act!
The people
WattValue is not just a group of people who work with other companies, it is much more than that! We are a company with strong convictions and values that guide our actions and our daily work. As an independent company, the values we advocate are: human, transparent and positive.
The opening of the energy markets is part of a voluntarist European context aimed at promoting the energy transition and the development of renewable energies also reinforces our vision of action. We aim to leverage this situation and act now for tomorrow!
Renewable Electricity, group purchase, green internet
Many companies suffer the consequences of an increasingly complex energy market. They do not choose their relation to it. Today, WattValue work with them to find the right contract at the right price, whether it is gas or electricity. Together, we can get better prices from suppliers. Toget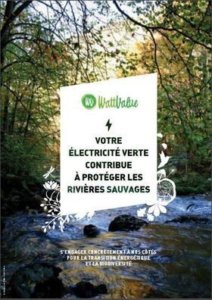 her, we can choose to integrate all or part of green energy in their energy consumption: WattValue has been working since its origins in 2006 with renewable energy producers, including hydro. From fully digital registration to a strong support by our teams, everything is done to accompany our customers and suppliers end to end. So together, we aim to get a collective energy at a fair and transparent price.
WattValue decided, at its level, to have concrete commitments and in particular is invested in the protection of biodiversity and rivers in France thru the support of an NGO – Rivières Sauvages! Find out more
Our services
Read this video and in less than 2 minutes, you will know much more about our services! Do not hesitate to contact us. Our services are not dedicated to France only!

B Corporation
WattValue is also a B Corp – B Corp is a great reunion of companies that share the same for-profit goals with a positive impact for all and similar values. Being a B Corp will help WattValue push its commitment further, become a better company thru a rigorous process while getting its voice heard louder in a market controlled by juggernauts. It is an opportunity to benchmark our social performance versus top of class. It is also a differentiation in a world of confusion. And a huge opportunity to reach and engage new partners with similar values.